Flange Connected Duckbill Check Valve(16"-96") Supply range is from 400mm to 2400mm, other sizes available. All rubber construction, steel ring flanges connect to pipe end, easy installation. Large inventory, OEM available, most professional duckbill valve manufacturer from China.
FLANGED Duckbill Check Valve(16"-96")
The Duckbill Valve Flanged Type is manufactured with a nylon reinforced rubber flange design, and furnished with galvanized carbon steel or stainless steel 304/316 retaining ring flange. The Valves can be installed directly to the pipe flanges. Normally, Liangda manufactures Flanged Type duckbill valves from DN150mm to DN2400mm, but we can supply the valves with any dimensions to meet your needs.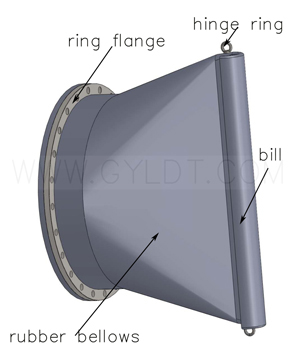 Features and Benefits:
1, Easy installation(flange connects to the pipe end)
2, More easier to installation
3, Handle large obstructions without jamming for all rubber construction
4, Reliable operation and maintenance-free
5, Cost-effective compared to conventional check valves
6, Excellent corrosion and abrasion resistance
7, Can be designed for any pipe dimension
8, Low head loss and less open pressure (1" W.C.)
9, Will not warp or freeze
10, Standard supply range is 150mm-2400mm
Flanged Duckbill Valves Data Sheet:
DN400-2400

SIZE I.D.(mm)
VALVE DIMENSIONS
Standard Dimensions for Retaining Ring Flange
C(mm)
F/F(mm)
W(mm)
Weight(kg)
OD(mm)
C(mm)
id(mm)
Hole Diam. (mm)
Bolt Hole Num.
T(mm)
Weight(kg)
400
515
550
605
20.6
565
515
460
25
16
17
10.4
450
565
605
645
25.5
615
565
514
25
20
17
10.5
500
620
630
750
35
670
620
564
25
20
17
13
600
725
760
880
56.2
780
725
668
30
20
17
15.1
700
840
775
950
70
895
840
772
30
24
20
22.6
800
920
860
1220
90
975
920
874
30
24
20
20.3
900
1020
940
1320
115
1075
1020
976
30
24
20
22.3
1000
1120
1150
1430
142
1175
1120
1078
30
28
20
23.8
1200
1340
1210
1620
272
1400
1340
1290
30
32
25
40
1400
1560
1270
1960
377
1620
1560
1500
34
36
25
51.3
1500
1660
1330
2060
410
1720
1660
1600
34
36
25
55
1600
1760
1409
2140
456
1820
1760
1700
34
40
30
69
1800
1970
1705
2700
580
2045
1970
1924
41
44
30
91.5
2000
2180
1850
2860
695
2265
2180
2110
42
48
32
112
2200
2390
2147
3500
770
2475
2390
2310
48
52
34
140.4
2400
2600
2604
3838
820
2685
2600
2536
48
56
36
144
Note:
1.The weight is approximate.
2. Rubber flange bolt circles DN400-700 according to DIN PN10, DN800-2400 according to DIN PN6. Other standard available as ANSI Class150/300, BS-10, JIS 5K/10K.
3.The retaining ring flange drilling is matched to rubber flange accordingly.
4.Material of the retaining ring flanges usually is carbon steel, painted. SS304/316 available up on request.
5. We can make duckbill valves with any dimensions rubber flange available as per requirement.
6. Duckbill valves of dimensions in the above table are available in inventory. Any other dimensions and designs available upon request